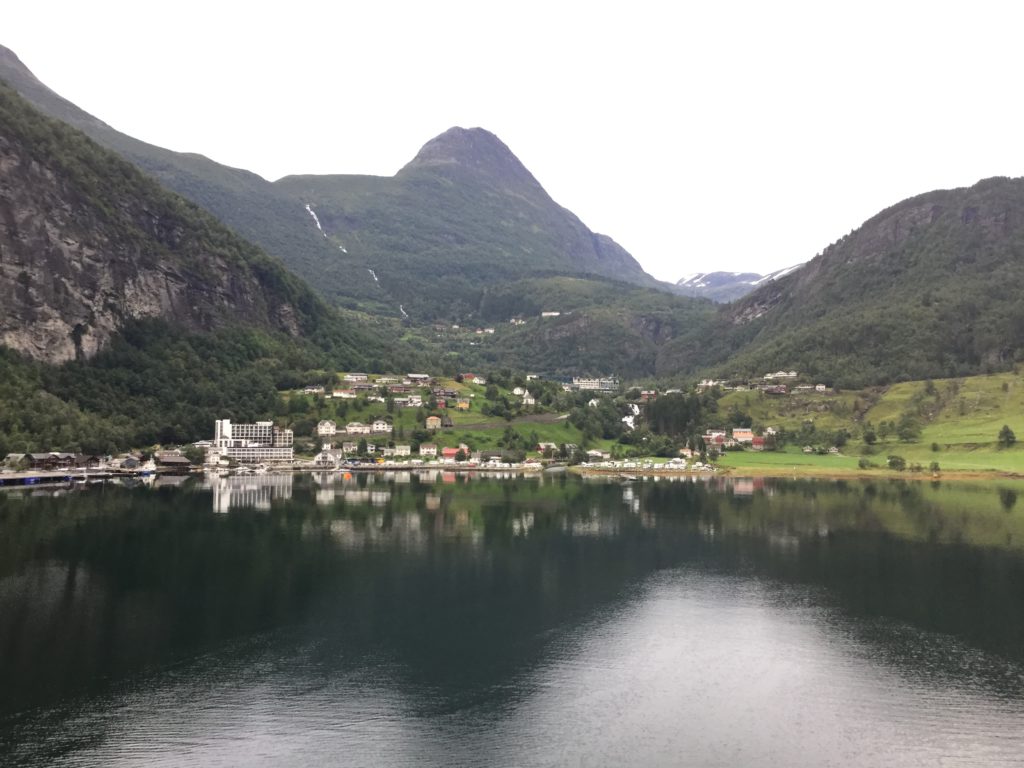 I recently took a cruise around the Fjords with Lydia and wrote a diary while I was travelling. I thought I'd share what I got up to and a few snaps with you. 
Sunday evening
Hello! So here we are on the glorious ship Azura, on our way to the Norwegian fjords – hooray! Lydia and I are sharing a cabin with a huge balcony and yesterday we had a very painless journey down to Southampton, followed by surprisingly speedy boarding. For this cruise we have been instructed to dress like an onion – Norway means rapidly changing weather, so you need to be prepared for everything. Yesterday was very windy but today has been much nicer. We are at sea, and the sun came out for several hours, probably because I deliberately didn't pack any sun cream. I'm now a bit sunburned!
What have we done so far today? Well, after breakfast we joined the beginners' waltz class and learned the basics, so I am now completely ready to be invited on to Strictly. Then we decided against the line-dancing class and sunbathed by one of the pools instead. After a gorgeous lunch in the restaurant I went to a lecture by the onboard author Diane Janes about the history of popular children's books. Then in the theatre we watched the Ministry of Science put on a great show, teaching science to children.
Now we're all done up for formal night, and I'm writing this before we head down to dinner. Later we'll watch a comedian perform, then go on to the syndicate quiz. We have already met some lovely fellow cruisers and hope to meet many more. But, of course, I also enjoy meeting grumpy moaning people because they can be so funny. On a previous cruise we met a wonderfully stroppy Hyacinth Bouquet type who announced with pride, 'I don't like comedians – they don't make me laugh.' (If people say something memorably awful or outrageous, sooner or later it'll generally end up in a book.)
Can I just say here that I know this kind of holiday isn't for everyone, but we love it. I hate not having lots to do – sitting and relaxing on a deserted tropical beach would be my idea of a nightmare. I like endless activities and variety, plenty of people around me… and of course food, lots of food!
Monday afternoon
OK, I'm back again! It's now Monday afternoon and we have left Stavanger. It was a bit rainy, but we explored the old town and the central part. The little white-painted wooden houses were fabulous. We've just had our sail-away party up on deck – lots of enthusiastic dancing and singing from the entertainment team and passengers.
 Monday evening
This evening Lydia made me go with her to see an Olly Murs tribute act. Not really my thing, but he was very good. He sang and danced and looked like Olly Murs, but spoke with a Welsh accent. We also saw another comedian in the main theatre and were amongst the last in, which meant sitting down at the front in the second row. He then began making fun of various people in the front row… scary, but we were lucky and didn't get picked on – phew.
Tuesday evening
Today we docked at Ålesund, which was beautiful. We were very lucky and had three or four hours of sunshine. We took a trip around the town and up to the very high up observation point, which was fab. The guide told us that the town burned to the ground a hundred years ago and, when it became apparent that the jail would be burned too, the prisoners were let out and told to come back again on Monday. Being lovely Norwegians, I'm sure they did!
This evening we saw a brilliant show performed by the ship's Headliners Theatre Company. Then Lydia and I did badly in the syndicate quiz, then we played Word Squares (as featured in You and Me, Always) and I played completely brilliantly and beat her. Twice!
Wednesday morning
We left Ålesund at 0200 hours and sailed into Geirangerfjord this morning. The scenery is just getting better and better. This place is amazing. Not sure if I'm going to be able to get on a coach and zig-zag up the narrow and frankly terrifying hairpin bends to explore the snow-capped mountains and waterfalls – tumbling off the side of an almost vertical mountainside has long been a fear of mine, which means I may just have to admire everything from sea-level. (Falling off the side of a mountain would be almost as mortifying as sitting in the front row of a theatre and being picked on by a comedian.)
Wednesday evening
So I told myself I should get over my stupid irrational fear, because obviously the coach drivers would know what they were doing and were expert at navigating hairpin bends. Then Lydia saw a coach driver hit a tree and knock the wing mirror off his coach. No chance after that! Instead we walked up to a very great height and took lots of photographs of a waterfall and our cruise ship looking tiny in the fjord below. My legs will ache tomorrow, but it was well worth the climb!
This evening we had dinner then saw another comedian, then a singer, then took part in a quiz, then had a midnight buffet.
Thursday afternoon
Today is Bergen day, and it is grey and chilly. We'd planned to travel up to the top of a mountain on the funicular, but the top of the mountain was wreathed in cloud so we gave it a miss. The fish market sold lots of fish, but also burgers and salamis made of moose, reindeer and whale meat. Everything in Norway is very expensive, so we didn't buy anything. It's fun looking in the bookshops for Norwegian translations of books by writer friends. At the moment, there are plenty on display by Lisa Jewell, Marian Keyes, Erica James and Jojo Moyes. Paperbacks cost 150 Kroner each – that's £15!
The Great British sail-away party as we left Bergen was wonderful – 'Rule, Britannia!' and 'Land of Hope and Glory' sung, and flags waved. Now it's time to get ready for the black and white formal dinner.
Thursday evening
Back again! Dinner was absolutely lovely and I sat next to someone who complained about all of it, which was hilarious. We also met two married couples who go on a full world cruise every year – imagine that!
After dinner we saw a stunning performance by the ballroom dancing professionals, then another comedian in the theatre, then a West End singer. We did pretty well in the syndicate quiz tonight, despite still being the smallest team, and after that it was time for the midnight buffet, which I'm liking very much. It is definitely a tradition I'll be continuing once we get back home.
Friday morning
And now it's Friday, our last day. The rain has stopped and the sun has come out (hooray!) but it's still quite breezy up on deck. So our first stop is the rumba class…
Friday afternoon
OK, don't ask me to rumba with you – apparently Latin American dancing isn't my forte. (I was also wearing flip flops, which didn't help.) Thankfully, eating Indian food is far more suited to my talents, so we had lunch in Sindhu, Atul Kochar's fantastic specialty restaurant. Then we went to another talk by the on-board author about Arthur Ransome, who wrote Swallows and Amazons, and then it was time to pack our cases before dinner… One last meal, one last show, one last quiz…
Saturday afternoon
This morning we disembarked, drove back to Bristol and were home by midday. Another gorgeous holiday, done and dusted. I suppose now I need to get on with writing the next book. Oh, but what's this arriving in the post… a lovely glossy brochure from a cruise company? Maybe I'll just take a quick look at next year's cruise itineraries first…